Grace Nuevo Cosmetic
Grace Nuevo Cosmetic is a brand created by passion of healthy and ageless skin and therefore it stands under the courtesy of natural beauty.
With an area of about two square meter the skin is the largest organ of the human body. It protects our internal organ against pressure and bacteria. Furthermore, it helps to regulate the mineral and hydrogen household and ensures the temperature compensation of our body. One of the inner triggers of skin aging is the decreasing activity of sebaceous and perspiratory glands. As a consequence, vital substances for the construction of protective acid mantels or hydrolipid films are missing. This means the ability of the skin to store water is decreased. In succession of moisture defeciency and a disturbed cornification, the body produce less own water binding endogeneous substances. This process accelerates the wrinkle formation of the skin. Free radicals are also associated with aging. As waste material caused carbon dioxide and the so called free radicals, are considered to be a central factor of skin aging. They are molecules or atoms in which an electron is missing. That is why free radicals act chemically agressive. Cell membranes like lipid or protien and the genetic material can be damaged as well.
Grace Nuevo products possess active natural ingredients like vitamin E, has a protective characteristic against free radicals and has the ability to slow down skin aging. Vitamin E can store humidity and caters the skin much elasticity. Hyaluronic acid is an endogeneous substance and has the ability of retaining water and thus is a moisture regulator. Enhanced skin with collagen, elastin and enough moist in order to keep skin smooth. NMF (Natural Moisturising Factor) the water content of epidermis is conducted by the substance NMF a natural skin protector against dehydration and provides skin suppleness. Pearlextract is rich of valuble minerals and essential amino acid, it help to slow down the skin aging by improving the metabolism process and offers protection against harmful environmental influences. Acmella Oleracea is an innovative herbal extract and has active ingredients called gatuline that contain spilanthol, a substance that responsible for the reduction of wrinkles and effectively decrease the intensity of facial muscles. Renaissance peptid complex is a high-tech anti-aging technology that helps to renew the skin matrix. Peptid-complex is a highly effective substance that stimulates cell and collagen synthesis and promotes skin firmness and elasticity. Urea provides rich moisture in the upper skin layer and offers firmness to the skin. Panthenol stimulates the generation of new cells and improves the protective barrier of skin flexibility. Olive oil contains polyphenole, a radical catcher and has the ability to protect skin cells.
A wide range of patience, time, and a basic willingness is the key elements to achieve a visible alteration and noticeable improvement of your skin. Skin care is not a luxury but rather a subject. To upkeep beautiful healthy skin, it is important to contribute preventative actions against premature skin aging. Supplying your skin with abundant moisture, it gaurantees the succesful skin renewal process and supports the skin cell regeneration as well. Special hightech beauty products provide the skin enough lipid content and adequate hydration not only to prevent and moderate the visible signs of skin aging but also the balance and the protective functional activity of the skin can be restored.
The right use of products are essential for a vital outcome.
Grace Nuevo Cosmetic products are in accordance with the latest EU regulations ( European Community) the Cosmetic ordinance ( KVO ) and
GMP (Certification of Good Manufacturing Practice). Grace Nuevo Cosmetic products guarantee high tolerance, Dermatologically tested and non animal expirement.

Hydra Active Face Gel
A thoroughly, deep-cleaned skin is definetely the strong foundation to getting your optimum care because only then can be the active ingredients be absorbed.
Hydra Active Face Gel is a mild cleansing gel that purifies your skin.
Product use
A clearer emulsifiers that cleanses face thoroughly without getting tough on your skin. Removes facial dirt brought about by the environment. Removes make-up hassle free.
Leaves face well-tended and cleansed. Skin appears clearer and refreshed.
Application
Apply onto a dampf hands and gently massage all over face and Neck. Remove with a cloth or rinse off in lukewarm water.
Afterwards clarify the skin with Hydra Active Tonic.
Content
170 ml bottle
Actve ingredients
Aloevera, Camille, Marigold, D-Panthenol und Urea
Without Emulsifiers, Preservatives, Artificial colors, Mineral oil and PEG's.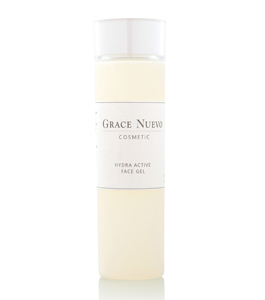 Hydra Active Tonic
Toner is an indispensable product for a thorough deep cleansing.
Skin tonics have the ability to maintain balance of acid protective mantle of the skin and for a better absorption of oxygen.
Product use
Refresh the skin and provide its moisture.Clears the skin surface from unwanted residue of tap water and closes pores. Reduces the penetration of impurities.
stabilize the pH balance, removes dirt that still be lingering after washing and the receptive readiness of the skin for following products are increase.
Application
Apply every morning and evening to a cleansed face. Use cotton balls and wipe it all over your face and neckline and decollete.
Afterwards apply your daily face cream care.
Content
170 ml bottle
Actve ingredients
Aloevera, Camille, Marigold, D-Panthenol und Urea
Without Emulsifiers, Preservatives, Artificial colors, Mineral oil and PEG's.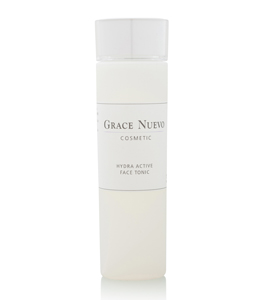 Hyaluronic Active Serum
Hyaluronic acid is known, as the best skin moisturizer. It is highly-efficient to store water. Hyaluronic acid is a Polysaccharides, that naturally found in the body. It is helpful to treat multiple signs of premature skin aging, dry eyes and help to lower joint pain .Hyaluronic acid is often rcommended by dermatologist, it has the ability to enhance skin texture, hydrates aged skin. It is a great Anti-Aging substance. Making it the best choice for you.
Product use
Hyaluron Active Serum a light emulsion that penetrates quickly and deeper into the skin. Fight against the troublesome fine lines.
Improve skin elasticity.Tighten face naturally and provide a soft skin sensation. Makes face look younger and flawless for everyday and night use.
Application
Apply every morning and evening after using Hydra Active Gel and Hydra Active Face Tonic. Rub on face gently and around neckline area.
Afterwards apply daily nursing care beauty products.
Content
30 ml Airless Spender
Active Ingredients
Hyaluronic Acids, Squalane, Vegetable oil
Without Emulsifiers, Preservatives, Silicone, Mineral oil, Animal Raw materials and free from PEG's.​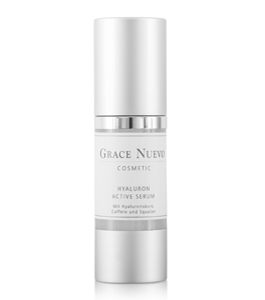 Anti-Aging Lifting Cream
Makes troublesome lines in the face, less noticebale for a younger and radaint apperance.With PARACRESS EXTRACT an innovative highly natural plant base extract from South Amerika ACMELLA OLERACEA
Product use
Relaxes facial muscles. Revitalize facial skin. A smooth botox alternative without toxic side effects. Plant base active substances.Effective up to 24 hours.
Application
Apply on cleansed face and rub around the neckline area, decollete and gently massage..
Content
50 ml cream jar
Active Ingredients
Exakte der Acmelia Oleracea, Kakaobutter, Almond oil, D-Panthenol
Without Parabene, Artificial colors, Mineral oil and Animal derived raw materials.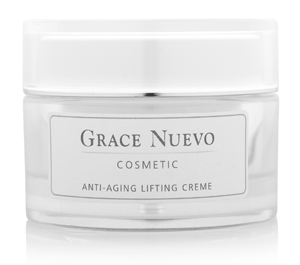 24 h Pearl Extract Intensive Cream
An overnight facial cream for skin regeneration with Renaissance-Peptiden for radaint appearance.
Product use
Provides skin with intense hydration. Pampers skin with intensive moisture and nourishment and acts a nutrient supplier,
like vitamins, natural minerals and valauble natural oil.
Helps skin to retain its youthfull look. Can be used to aid dehydrated skin in cold season. It is also an ideal basis to make-up application.
Application
Apply on face after cleaning thoroughly. Gently massage around neck and decollete. 24 hours facial cream.
Content
50 ml cream jar
Active Ingredients
Renaissance-Peptide, Pearl-extract, Vitamine E, Jojoba- and Avocado oil, NMF - Natural Moisture Factor, D-Panthenol.
Without Parabene, Artificial colors, Mineral oil and Animal derived raw materials.​